Features:

The trail you take to climb Tamanos Mountain also leads you to Owyhigh Lakes along the way. Also, if you were so inclined, you could do a shuttle hike by leaving a vehicle on SR123 between Cayuse Pass and the Shriner Peak trailhead.

The trail is in excellent condition until you reach the junction of the spur trail that takes you up to the base of Tamanos Mountain. After 2.8 miles you will have ascended almost 1500 feet and at that point the trail becomes more level.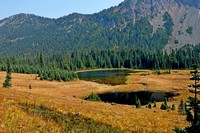 In another 0.7 miles, you will come to Owyhigh Lakes. Another 0.3 miles and you will come to the junction of the trail that takes you up to the saddle/base of Tamanos Mountain. The trail becomes unrealistically steep for most of the hike up to the saddle.

The hike to the base of Tamanos Mountain is very difficult due to the extremely steep incline of the trail with virtually no switchbacks.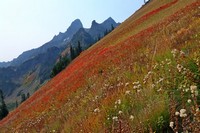 Nevertheless, this is a world class hike with many rewards. On a clear day, the view of Mt. Rainier from the saddle below the mountain is world class. I did not see an actual trail up to the summit of Tamanos Mountain, and saw no reason to continue climbing.

However, many of you will most likely want to make the climb. Just have a good GPS and/or map handy. In the fall, up until the snow falls and the road is closed, this is a very worthwhile hike.


Mt Rainier from Tamanos Mountain saddle